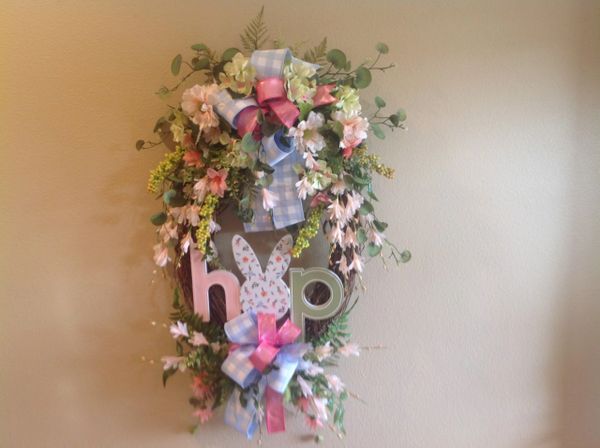 What a gorgeous addition to your inside door or wall this swag would be! Your family and friends will say, "WOW!"  This swag is decorated in pastel flowers of pink and spring green, accented with blue gingham and pink ribbons and just oodles of flowers and green vines, all centered around a cute "hop" sign.  This is a one-of-a-kind piece and is versatile enough to be used all Spring long.  Who doesn't have bunnies hopping around in their yard!  This swag can last for years with minimum fuss --  cover with the plastic bag provided with the swag and hang in a spare room or garage until the next year.  Simply fluff the ribbon and use again.  This is like getting two pieces in one!

This swag measures 38" long x 21" wide, so it will fit between an inside door and storm door.

We recommend INDOOR USE ONLY.